Commercial Window Film Products
3M Scotchshield Safety & Security Window Films, Ultra Series for Commercial
Mitigates hazards from shattered glass during natural disasters.
Helps protect people from flying glass shards, one of the most common causes of blast-related injuries and fatalities.
Micro-layered and tear-resistant to help increase security and provide added protection against smash and grab burglaries.
Combine with 3Mâ"¢ Impact Protection Attachment Systems for additional safety and security.
3M FASARA Glass Finishes – Slat, 50 in x 98.4 ft
Aesthetics: Our decorative glass and window films transform plain glass, capturing the look of cut or texturized glass to an astonishing degree at a fraction of the price.
Flexible: FASARAâ"¢ Glass Finishes allow you to tailor the amount of privacy a space possesses.
Easy application: 3M expertise in adhesives ensures you of fast, accurate, beautiful and durable application to a variety of glass substrates.
Materials: Constructed from durable and flexible polyester materials.
3M Sun Control Window Films, Night Vision Series for Commercial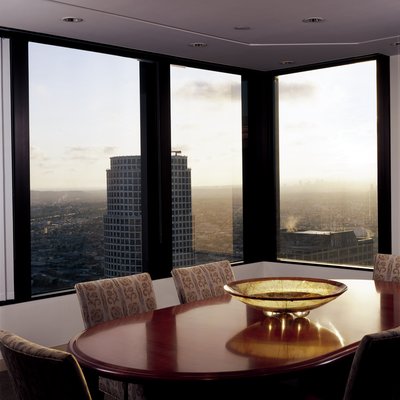 Offers enhanced views with low interior reflectivity, especially at night.
Rejects up to 71% of the sun's heat to help reduce glare and eye discomfort.
Significantly blocks the amount of harmful UV rays that cause fading, helping to extend the life of your furnishings.
Made with a scratch-resistant coating to ensure clear views
3M Sun Control Window Films, Prestige Series for Commercial
Allows high transmission of natural light into your building to provide excellent aesthetics.
This spectrally selective film rejects up to 97% of infrared light providing energy savings, enhanced comfort and protection.
Low interior and exterior reflectivity lets you enjoy the views from inside, while maintaining an attractive look from outside.
Non-metallized window film won't affect signal interference and is corrosion-resistant.
3M Thinsulate Window Film Climate Control Series for Commercial
Helps Keep You warm during cold winter months.
Good heat rejection provides additional comfort and energy savings in the summer months.
Film offers high visible light transmission with a neutral appearance to help maintain a buildings existing appearance.
Significantly blocks the amount of harmful UV rays that cause fading, helping to extend the life of furnishings.